The history of Wānaka Airport
The original airport at Wānaka was located near Mount Iron and used by a number of owners of fixed wing aircraft. During the tourist season in the 1950s, Southern Scenic Air Services Ltd became one of the first commercial companies to use the strip.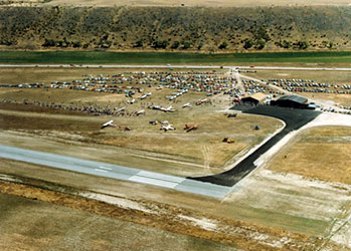 It became clear that this strip would never be satisfactory as a municipal airport, one of the main reasons being the close proximity to Wānaka Township and concern about the impact of aircraft noise. The present site near Luggate was deemed the most practical alternative site.

This site was used originally by the Gore Aero Club for pilot training some 40 years ago. The owner farmer, Mr Allison, who had an interest in aviation, made a paddock adjacent to State Highway 6 available for aircraft which included, from the late 1960s, Cessna aircraft operated by Tim & George Wallis.
In the 1960s Mr Allison hosted what's believed to be the first private airshow at the airport.
1988 - First Warbirds Over Wānaka
Sir Tim Wallis held the first official Warbirds Over Wānaka in 1988 and attracted over 55,000 people.
In 1978, a price was negotiated for the purchase of land at the current site.

The new Wānaka Airport was opened at the beginning of 1983 by Hon Warren E Cooper and Lloyd Dunn from the Wānaka Airport Authority. It opened with an initial sealed strip 15m wide and had over 3,500 people attend the open day with 80 aircraft flying.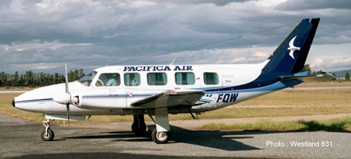 1985 - First Seven-day a week service
In 1985, the Wānaka-based Aspiring air started a seven-day a week service to Queenstown in conjunction with Newman Air.
The 20-minute flight departed twice a day and cost $161 one way to Christchurch - $3 more than the direct Queenstown-Christchurch flight. Passengers flew Aspiring Air to Queenstown and then picked up a Newman Air flight to Christchurch.
In 1986, the runway was lengthened to 1200m with a grass-seeded extension. This proved unsuccessful and over the next two years, the airport was upgraded with a new sealed runway and taxiway at a cost of $750,000.
On 6th January 1988, Pacifica Air, which was run by Sir Clifford Skeggs' transport group, started twice daily flights (single flight on Saturdays and Sundays) from Christchurch to Alexandra and Wānaka. The first flight was operated by the Metroliner but normally a nine-seat Piper Pa31-350 Navajo Chieftain, ZK-FOP (c/n 31-7405227) was used. Marketed as the 'Edgewater Express', the service was designed to fly guests to Wānaka's Edgewater Resort hotel as well as other holidaymakers and visitors.
This service was not sustainable and on 27 February 1989, Pacifica Air ceased scheduled operations and ended its Christchurch-Alexandra-Wānaka service.