Community thanked for "thinking big"
25 May 2018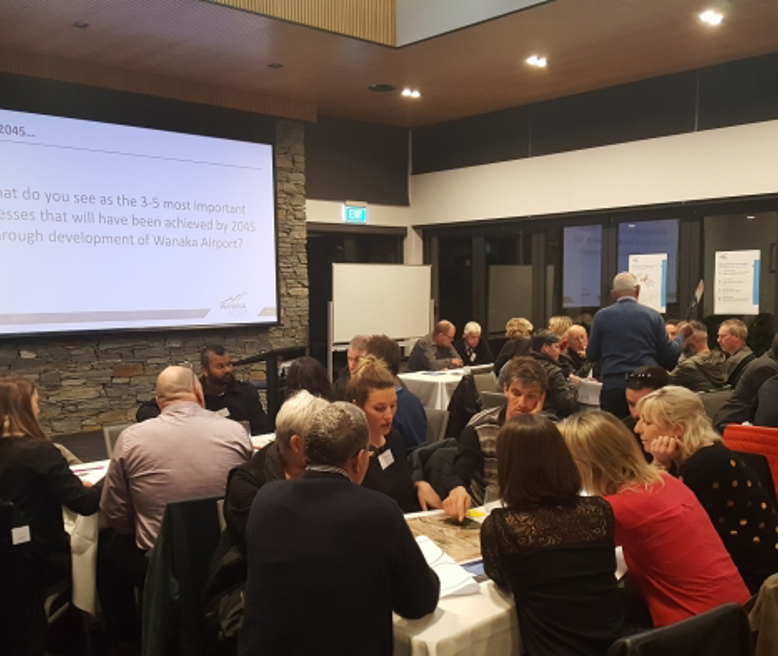 Upper Clutha communities thanked for "thinking big" at Wānaka Airport workshops.

More than 140 members of the Upper Clutha communities were asked to "dream big" at two workshops held this week to talk about the future of Wānaka Airport over the next thirty years.

The interactive sessions saw community members explore some of the opportunities and challenges related to growth, development and planning for the airport of the future.

Queenstown Airport Chief Executive Colin Keel said that he was "very pleased with the turnout for both workshops as well as the diversity of people in the room".

"Both sessions were at capacity and included a great representation of the airport and wider community. We thank everyone for taking the time to provide their thoughts and ideas. This is stage one of the planning process and an important one."

"We set the groups no boundaries and asked people to think big about the airport's future. We saw and heard some innovative and clever ideas together with robust, healthy discussions on what success for the airport means to the community," said Colin.

One of the questions asked of the groups was "describe in one word what success looks like to you in 2045 for Wānaka Airport"? The top five words from across both sessions were sustainable, innovative, community, opportunity and growth.

A second question asked the community to consider in one word what their biggest concern about any future development might be"? The top words from the workshops were infrastructure, noise, planning, growth and use of airspace for multiple users.

All of the ideas and themes from the workshops will now be pulled together and fed into the Wānaka Airport master plan process, which is due to start later this year.

For those community members who couldn't make the workshops, they can join the conversation online via the airport's new community hub called our.wanakaairport.com. A survey will be posted in the coming weeks to garner opinion on a variety of issues, including views on the key themes identified in this week's community workshops.