NASA to host 'Locals Day' to highlight upcoming balloon flight
10 Mar 2017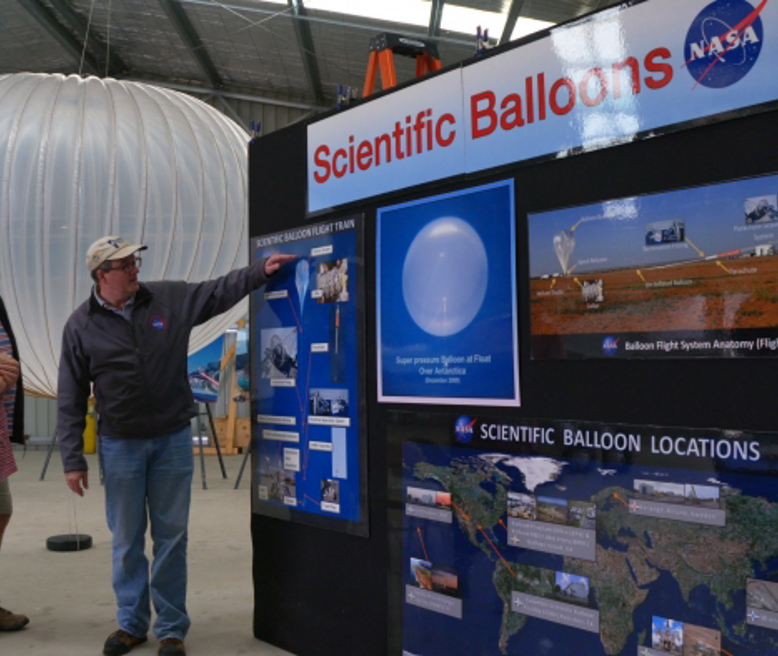 NASA and the Wānaka Airport will hold a "Locals Day" outreach event to discuss the American space agency's third consecutive super pressure balloon mission to launch from Wānaka.
The community outreach event is from 4 to 6 p.m., Thursday, March 23, at the Wanaka Airport hangar – the large blue one directly opposite the entrance to the airport.
The event, featuring a tour of NASA's balloon operations equipment, payload processing bay, and short presentations on the balloon and science missions followed by a question and answer session, is free and open to the public.
NASA has returned to Wanaka to launch a long-duration, heavy-lift super pressure balloon (SPB) into one of the most dynamic and severe flight regimes inside the Earth's atmosphere. Currently, NASA is targeting no earlier than March 25 for launch.
While the ongoing testing and development of the SPB is the primary focus of this year's mission, the NASA Scientific Balloon Team is flying the University of Chicago's Extreme Universe Space Observatory (EUSO-SPB) payload as part of the mission.
New to the 2017 campaign is the construction of a dedicated balloon launch pad on the northeast side of the Wanaka Airport. This new pad, a 600-metre in diameter large gravel semi-circle, will enable NASA's balloon launch operations to run seamlessly alongside other airport operations and tenants on launch day.
NASA's SPB is a large structure, about the size of the Forsyth-Barr Stadium in Dunedin, New Zealand, when fully inflated. The balloon is made from polyethylene film, which is similar in appearance and thickness to the type used for sandwich bags, but stronger and more durable.
For more information and progress reports check out www.wanakaairport.com and 'like' Wanaka Airport's Facebook page.
Once launched, anyone can track the balloon flight by visiting
www.csbf.nasa.gov/newzealand/wanaka.htm

For more information on NASA's Scientific Balloon Programme, visit
www.nasa.gov/scientificballoons

Jeremy L. Eggers
Chief, Office of Communications
Wallops Flight Facility
Office: 757-824-2958
Mobile: 757-694-5032
www.nasa.gov/wallops
www.facebook.com/NASAWFF