Women Aviators take-off in Wānaka
9 Jun 2017
President Julie Bubb said the event, which is held at various airfields on Queen's Birthday weekend every year, was an important one in the association's annual calendar.

"It's a great opportunity for women in aviation to get together, network, catch-up with old friends, practice their flying and of course compete. The competition very much forms a part of the weekend and is hotly contested," said Julie.

Previously, rally destinations were voted on by the committee but this was recently changed and Wānaka has been chosen as the preferred location for the South Island rallys meaning a visit probably every four years.

"We certainly plan to have more rallys here in Wānaka. It ticks the boxes for a number of reasons. As well as being a great place to visit, it's in a good location and has all the facilities and services we need and there's a great bunch of local women aviators eager to help organise and support.

"Wānaka is an amazing mecca for aviation and close to the major airport at Queenstown to enable people to fly in with ease," said Julie.

The competition side of the event covered written and practical events including run-up, taxiing, cockpit drills, take-off, engine failure- after take-off, climb, medium turns, stalling, gliding turns, circuit re-join procedure, approach and landing.

The youngest competitor was 14 year old glider pilot Alexandra Thomson from Hawkes Bay who took her first solo flight aged just 13, while the eldest woman competing was in her late 60s.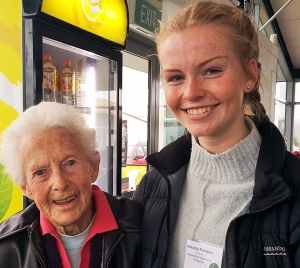 The association attracts women from a huge variety of aviation-focussed disciplines including airline pilots, the Royal Air Force, aviation medical examiner, meteorologists, aircraft engineers, parachuters, sky divers and general aviators who fly recreationally.

Of the 85 people attending the event, 23 competed in the flying competitions and 2 members were over 90 years' of age.

This included 91-year old patroness Rhona Fraser, who was also the Association's first President back in 1959 and Judy Costello. Ms Fraser was the first woman after World War 2 to gain her private pilot's licence and to fly solo in a Tiger Moth from the Wellington Aero Club.

In 1960, she established the New Zealand Association of Women in Aviation to support women who wanted to fly, because in those days it was a ``man's world'', she said.

Pilot Judy Costello (pictured), who still flies, was named the Association's new patroness at the AGM taking over the helm from Rhona after 18 years.

The weekend-long event isn't just about flying though, it's also about having fun. The theme for this year's event was 'Stars' and guests enjoyed a multitude of events in the evening including skits, games, guest speaker Graeme Murray from Tekapo's Earth & Sky and much more.

Ex All-Black Richie McCaw and wife Gemma had a pleasant surprise when they flew in for the weekend to be greeted by the members and volunteers from the cadets.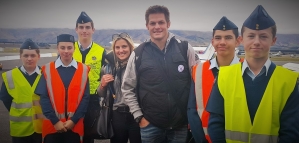 Following the competitions on Saturday, Sunday night provided an opportunity to glam up for a celebratory dinner.

"Sunday is a huge night of celebration and recognition," said Julie.

"This is where we give away scholarships, certificates for long serving members, plus recognising those who have achieved 500 and 1,000 hours of flying."

Mandy Deans, local aviator and event manager for Warbirds Over Wānaka, received her Silver Wings Certificate at the awards dinner on Saturday night which is a great achievement, celebrating 35 years of membership.

David Morgan, Chief Pilot for Air New Zealand also presented the Ann Barbarich Award to Bernadette McGuire.

Sponsored by Air New Zealand, the award was established in 2015 in memory of Ann who was a pilot, parachutist and aviation enthusiast who sadly died on a tour of duty flying the B787 for Air New Zealand. She had over 16,000 flying hours under her belt and was a huge force in the industry.

The award is given to encourage and motivate an aspiring pilot with a day in the life of an airline pilot experience with Air New Zealand and a leadership workshop.

Next year's event is planned for Whitianga and 2019 will see the association visit Omaka, with hopes to return to Wānaka in about four years.