World grass seed trial growing in Wānaka
3 Aug 2017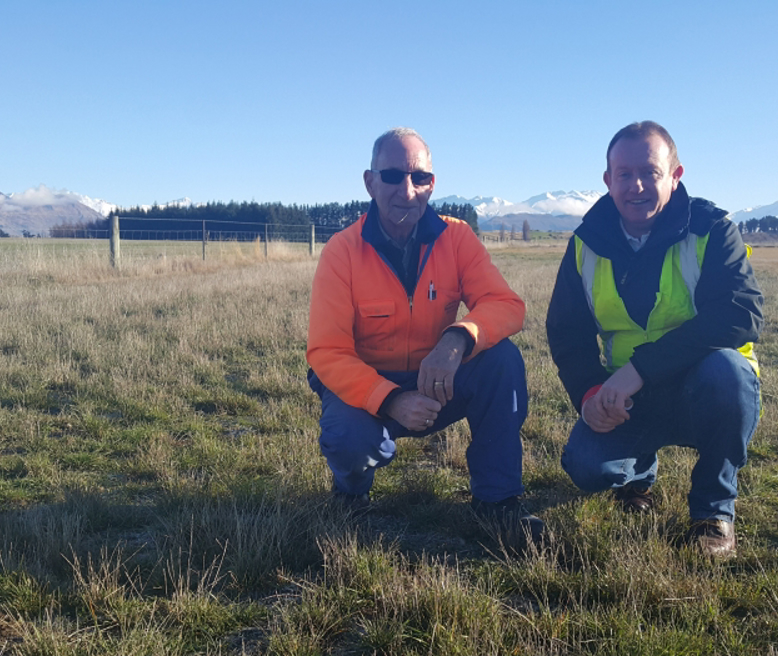 The brainchild of leading Danish seed company DLF, project ClearSky uses a combination of grass seed and correct maintenance to achieve a sward (that's growth to you and I) undesirable to birds.
The main characteristic is that of an erect, spiky by nature habitat, which is too dense for small birds to tackle and too spiky for larger birds. It's also completely harmless to birds and other animals.
Wānaka Airport Operations Manager Ralph Fegan met with DLF's Turf Manager Peter Griffiths last month to check on the progress of the three year trial.
Peter says: "Wānaka has a unique microclimate and there's no "one size fits all solution", so the Wānaka trial is one of our preferred world test sites due to the cold temperate. It's holding up really well to the frosts and is looking good."
During the trial, Peter and DLF are looking for a consistent, but not fast growth, of the grass, which should be on average 150-300mm in height. The type of grass seed is a Tall Fescue, commonly used in ornamental lawns and USA-based sports field. The Fescue does well in poor soil and as part of the trial DLF is looking at the nutrients of the sol around Wānaka Airport to see what works best.
By having an effective habitat management plan in place at an airport, you not only reduce the risk of bird strikes, but also reduce maintenance costs. It really can save lives.
"ClearSky is about changing the environment surrounding airports to ensure safety in aviation, while also being environmentally-friendly," said Peter.
Clearsky started in Heathrow and Aberdeen Airports, as well as the RAF base in Jersey, where bird activity reduced by 50-60%.